Family time @ Pratapgarh – Jahan pyar hi pyar pale
Activities
Music and Cultural Activities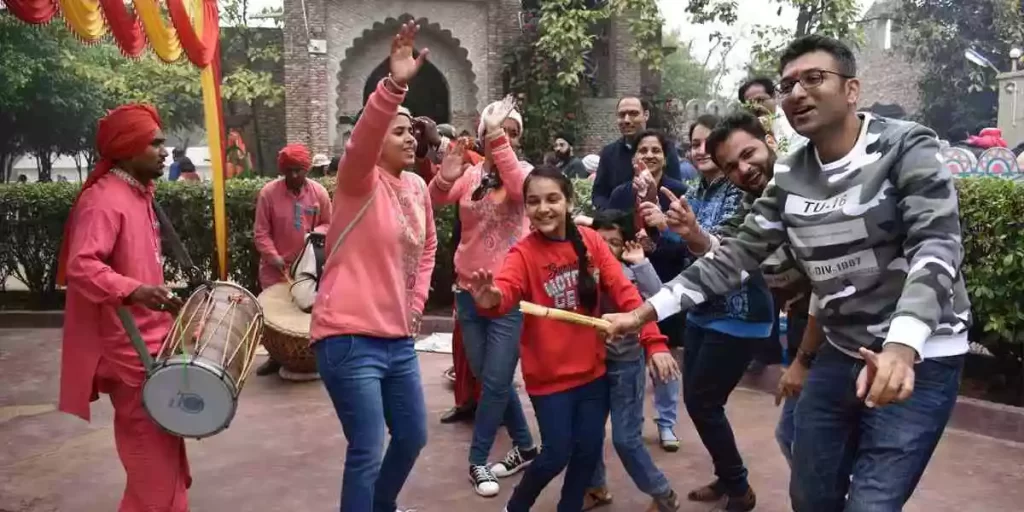 DJ Music
Been and Dholki Dance
Puppet Show
Rides
Camel ride
Camel cart ride
Bullock cart ride
Tractor ride
Boating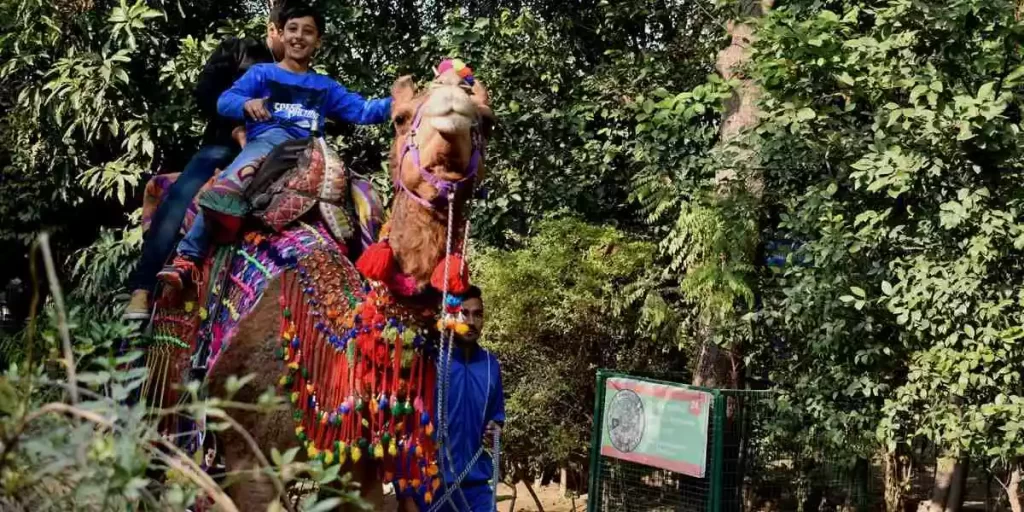 Ethnic Games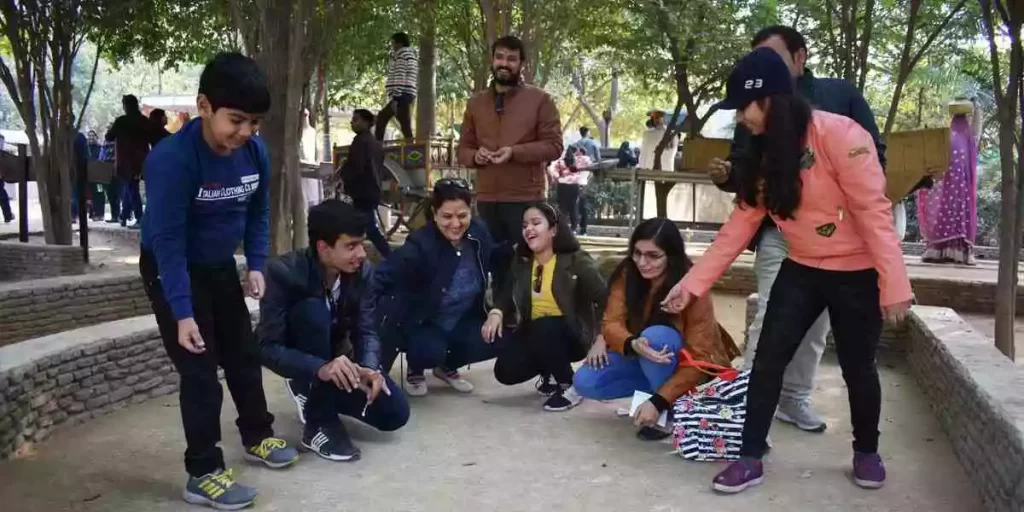 Gilli Danda
Pithoo
Lattoo
Kanche goli
Archery
Gulel (sling shot)
Dart shooting
Air gun shooting
Kushti
Kabbadi
Kite flying
Tug of war
Outdoor Sports
Golf
Zorb Roller
Cricket
Soccer
Volleyball
Badminton
Trampoline
Basketball
Spoon race
Lemon race
Musical Chairs
Tambola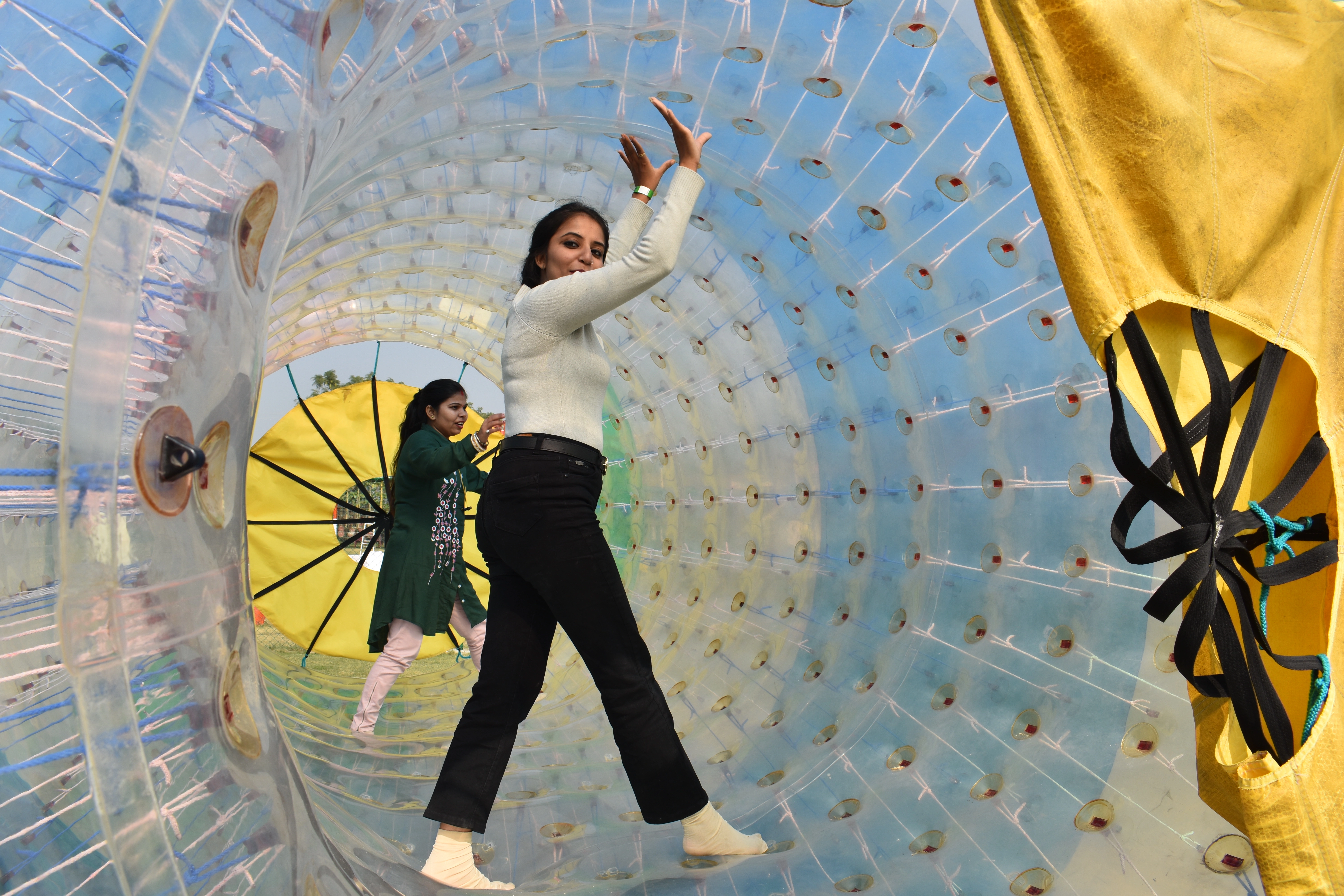 Relaxation Activities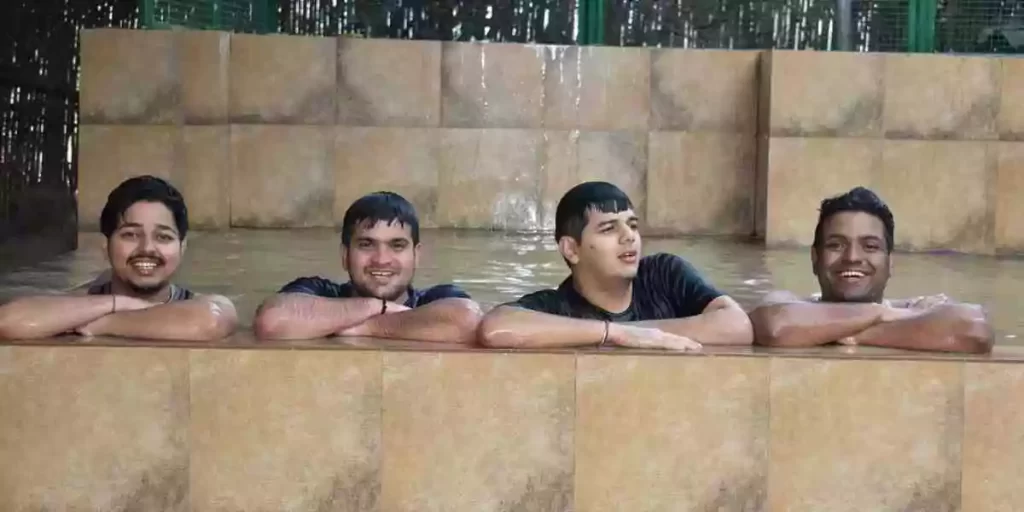 Mehndi (henna application)
Mud packs
Mud bath
Head massage
Tube Well Bath
Rain Dance
Rural Activities
Charkha Weaving
Handloom Weaving
Peedha Weaving
Pagdhi Tying
Chakki (Grinding Grains)
Pounding grain
Making ghee and butter millk
Panihari Chaal (balancing water pails)
Pottery
Mud walls and painting frescoes on mud walls
Matka painting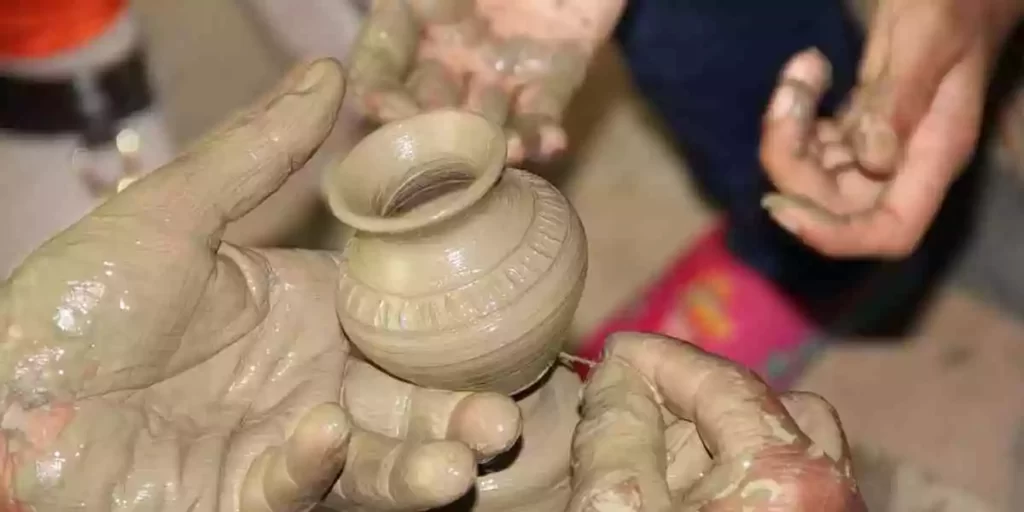 Agriculture Activities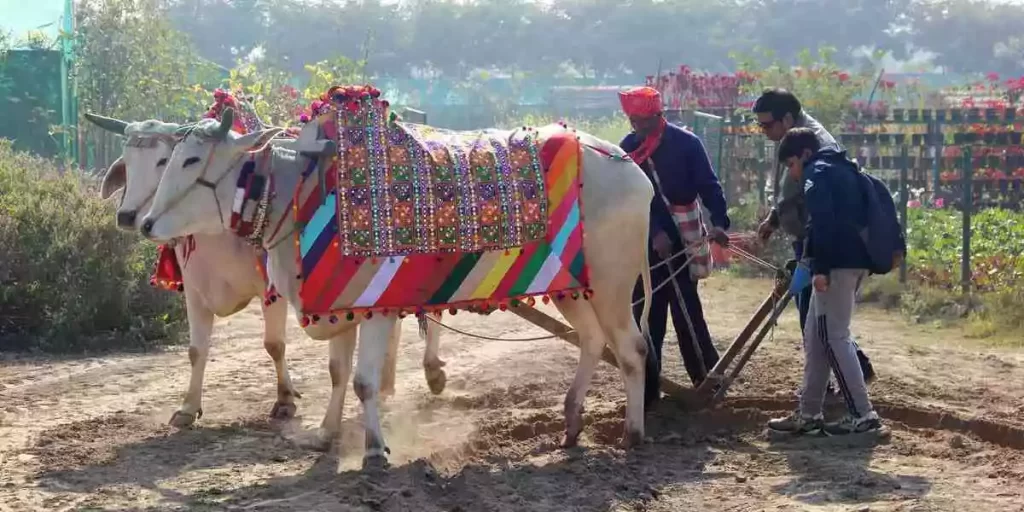 Ploughing
Sowing
Reaping
Winnowing
Dairy farm
Tending goats
Cows
Buffaloes
Poultry farm
Biogas plant
Vermi-composting plant
Herb Garden
Nakshatra Vatika
Navgriha Vatika
Triphla Kunj
Panchvati
Bodh Vatika
Adventure Activities
Zipline
Tyre Tunnel
Tyre Hopping
Balancing Bean
Commando Net
Commando Net Traverse Wall
Tyre Traverse Wall
Double Rope Bridge
Swinging Burma Bridge
Happy Hopper
Double Block Swing
Hanging Tyre Traverse
Inverted A Rope Bridge
Tyre Balance Bridge
Healing H
Zig Zag Walk
Cat Walk
Swinging Timber Log
V Bridge
Swinging Balance Bean
Elephant Walk
Tyre Swing Walk
Swinging Plank
Swinging Squares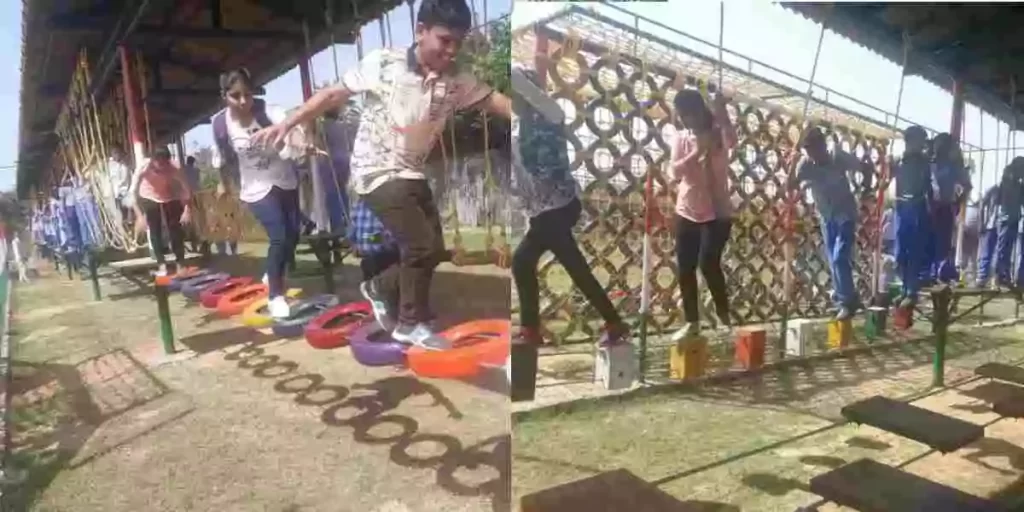 Indoor Games Arena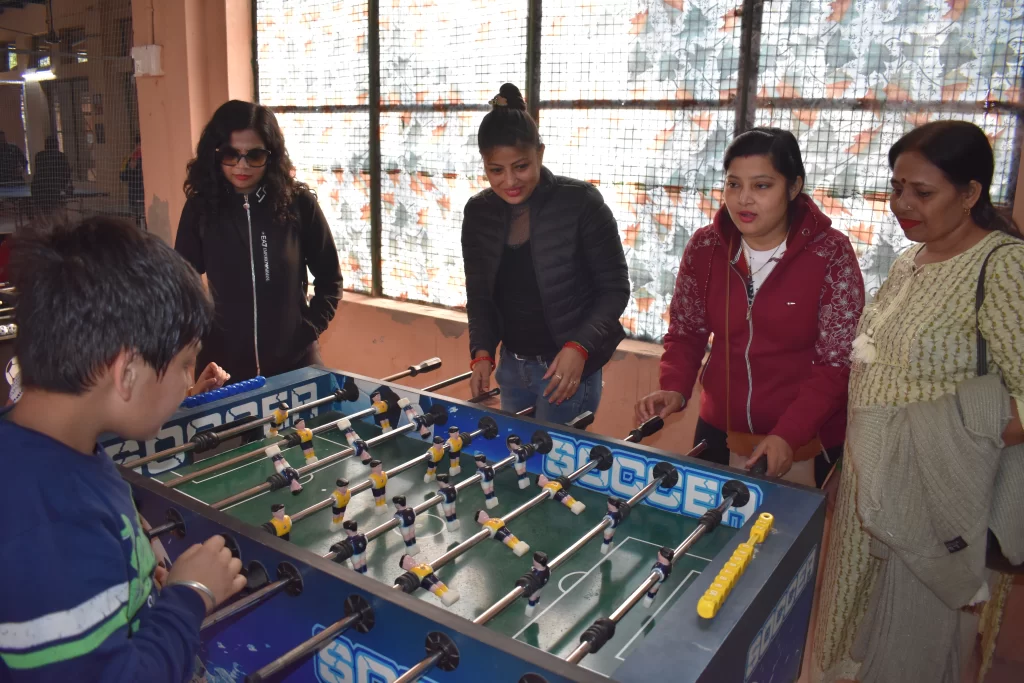 Pool Table
Air Hockey
Foosball
Table Tennis
Carrom
Chess
Ludo
Snakes and Ladders (Saanp Seedi)
---
FOOD / CUISINE
ctivities
Music and Cultural Activities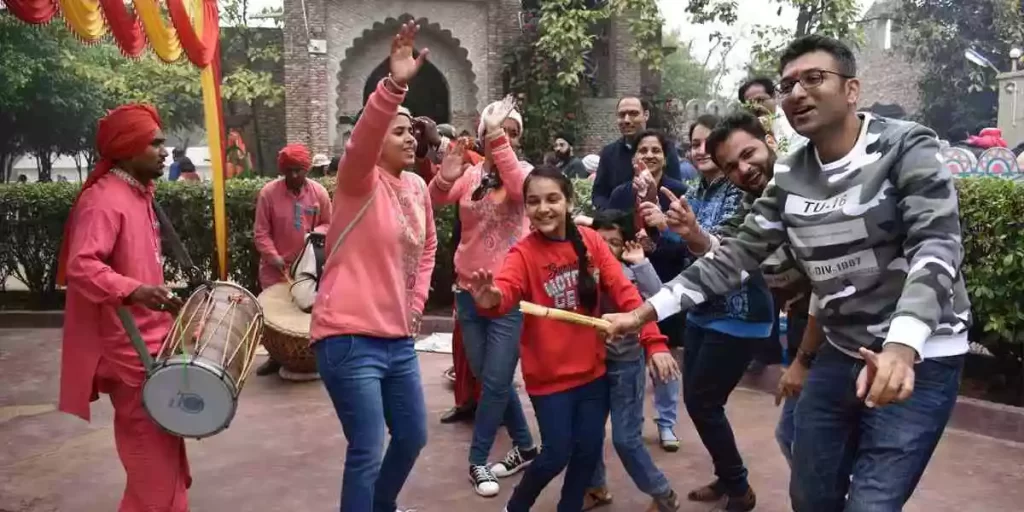 DJ Music
Been and Dholki Dance
Puppet Show
Rides
Camel ride
Camel cart ride
Bullock cart ride
Tractor ride
Boating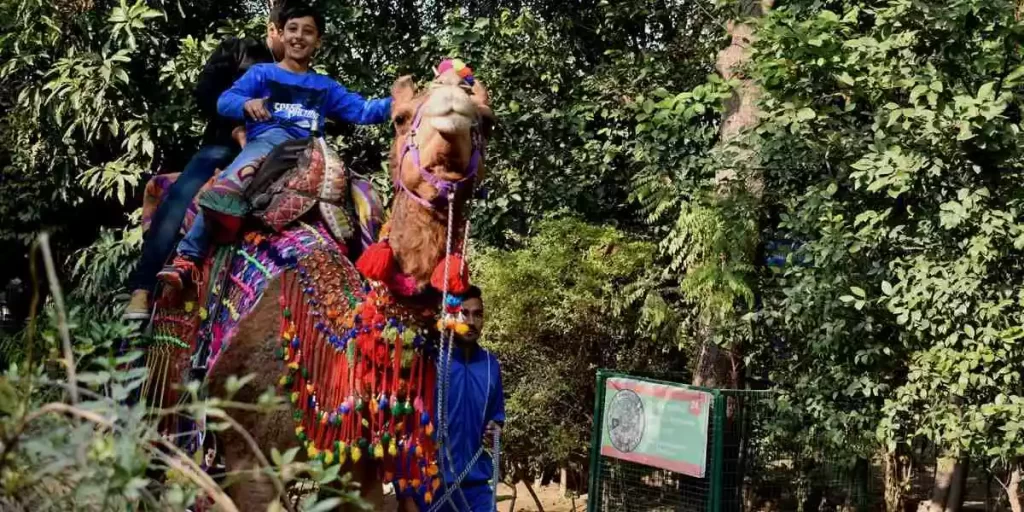 Ethnic Games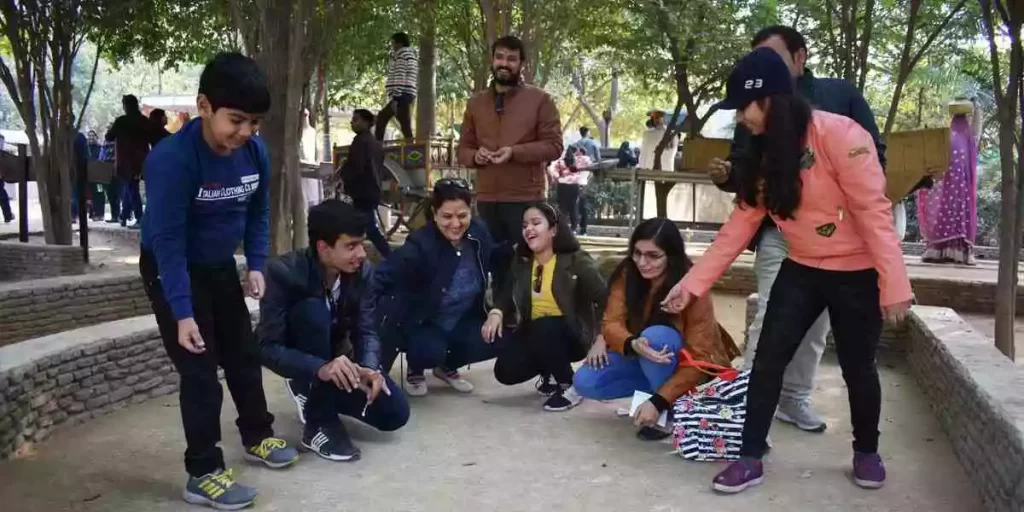 Gilli Danda
Pithoo
Lattoo
Kanche goli
Archery
Gulel (sling shot)
Dart shooting
Air gun shooting
Kushti
Kabbadi
Kite flying
Tug of war
Outdoor Sports
Golf
Zorb Roller
Cricket
Soccer
Volleyball
Badminton
Trampoline
Basketball
Spoon race
Lemon race
Musical Chairs
Tambola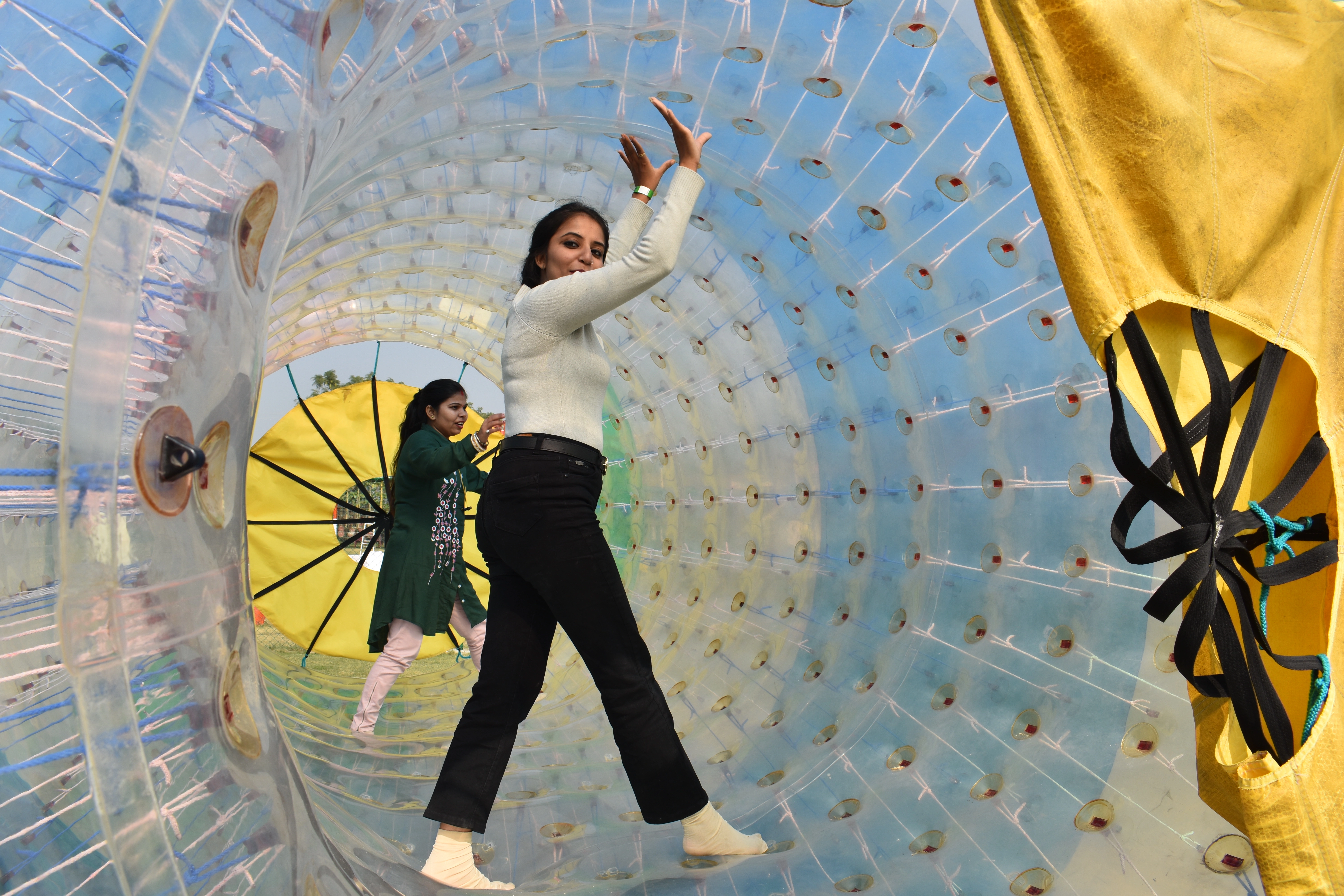 Relaxation Activities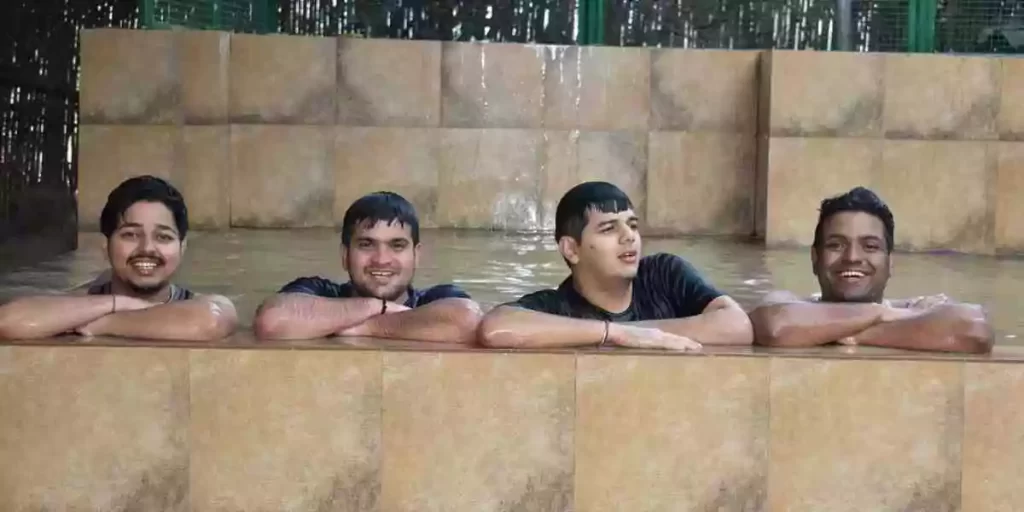 Mehndi (henna application)
Mud packs
Mud bath
Head massage
Tube Well Bath
Rain Dance
Rural Activities
Charkha Weaving
Handloom Weaving
Peedha Weaving
Pagdhi Tying
Chakki (Grinding Grains)
Pounding grain
Making ghee and butter millk
Panihari Chaal (balancing water pails)
Pottery
Mud walls and painting frescoes on mud walls
Matka painting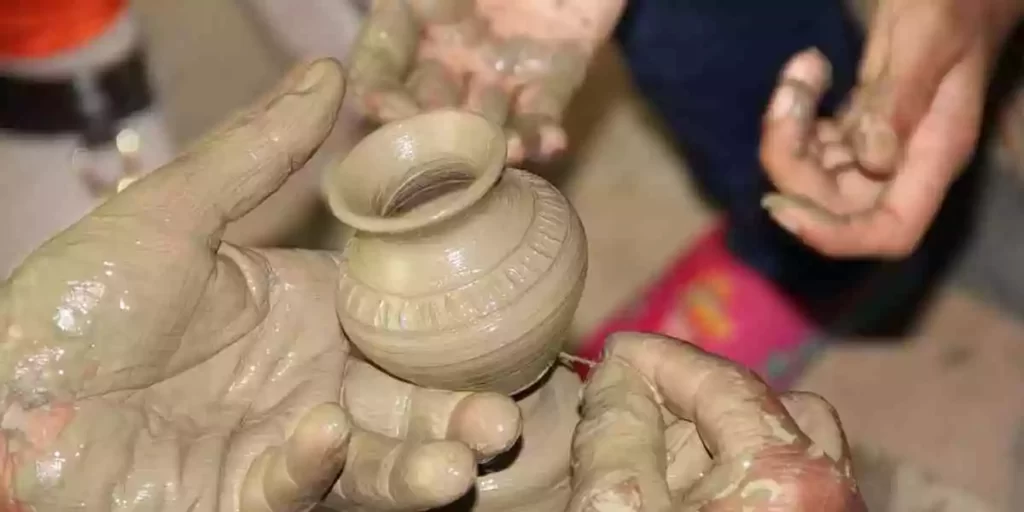 Agriculture Activities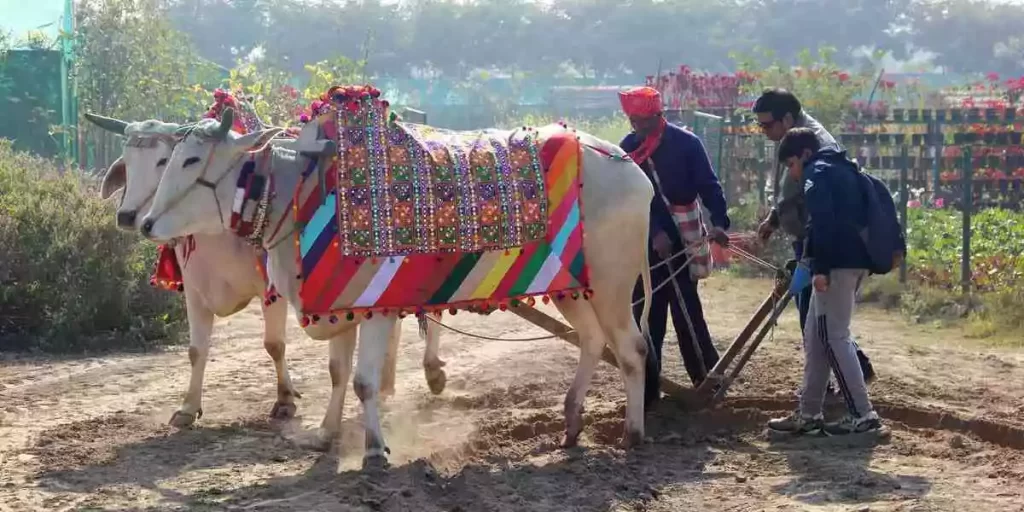 Ploughing
Sowing
Reaping
Winnowing
Dairy farm
Tending goats
Cows
Buffaloes
Poultry farm
Biogas plant
Vermi-composting plant
Herb Garden
Nakshatra Vatika
Navgriha Vatika
Triphla Kunj
Panchvati
Bodh Vatika
Adventure Activities
Zipline
Tyre Tunnel
Tyre Hopping
Balancing Bean
Commando Net
Commando Net Traverse Wall
Tyre Traverse Wall
Double Rope Bridge
Swinging Burma Bridge
Happy Hopper
Double Block Swing
Hanging Tyre Traverse
Inverted A Rope Bridge
Tyre Balance Bridge
Healing H
Zig Zag Walk
Cat Walk
Swinging Timber Log
V Bridge
Swinging Balance Bean
Elephant Walk
Tyre Swing Walk
Swinging Plank
Swinging Squares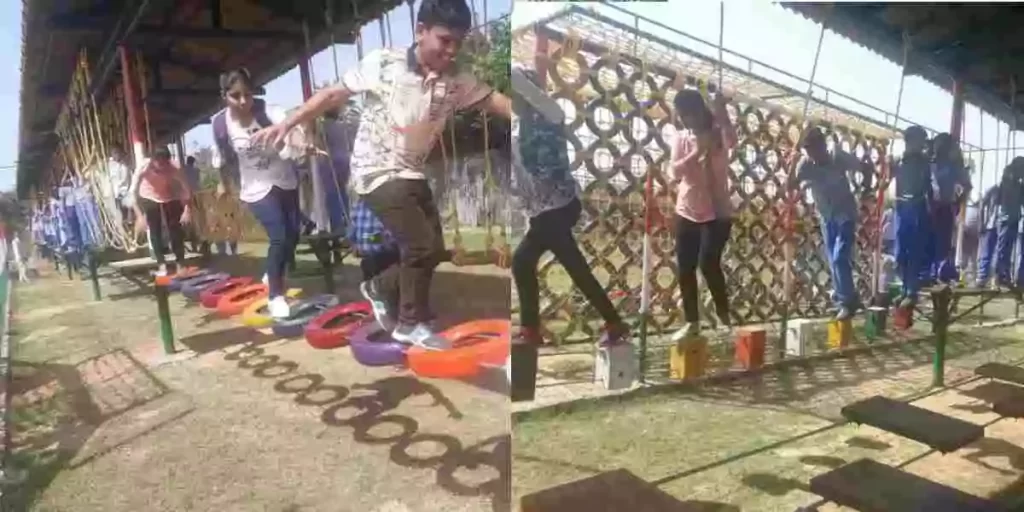 Indoor Games Arena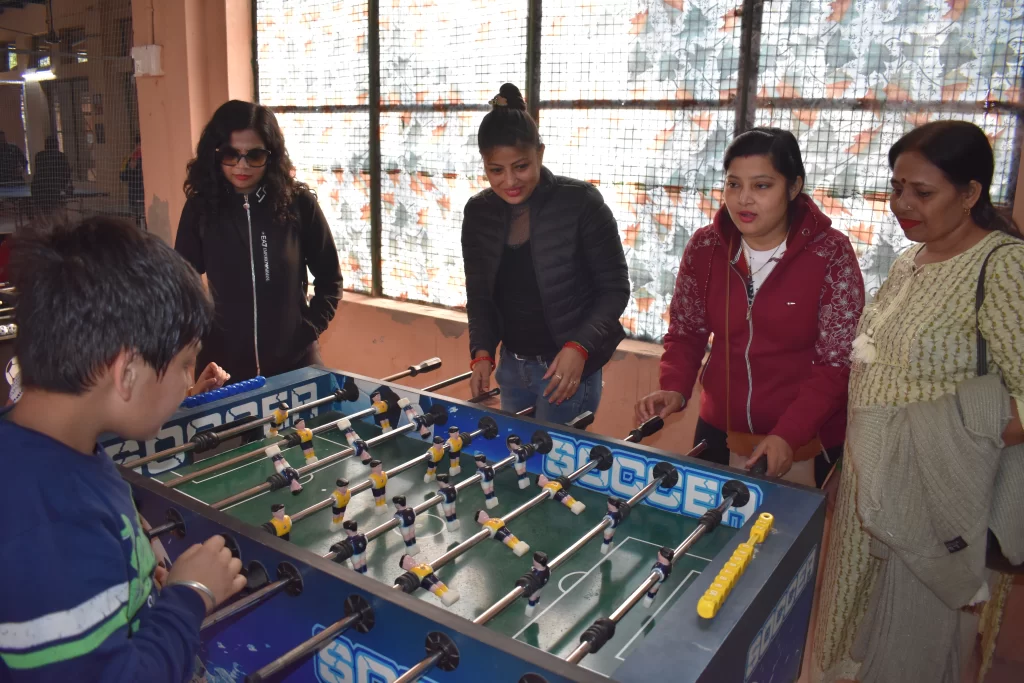 Pool Table
Air Hockey
Foosball
Table Tennis
Carrom
Chess
Ludo
Snakes and Ladders (Saanp Seedi)
---
FOOD / CUISINE
Sara Din
(available throughout the day)
Neembu Shikanjee , Chacch, Tea and Pakoras, Kadhai doodh, Jalebi, Makee Bajre ki roti with desi Ghee, Gur, and Lahsoon ki Chatni. Bajre Ki Khichri with Ghee Bura, Gulgule, Ganne (sugarcane), Mooli(radish) straight from the field.
Mazedar Nashta
Breakfast (09.30-12.00 am)
A choice of stuffed paranthas with white farm fresh Makhan, Dahi, Achaar and Chatni and Poori Bhaji.
Dopahar Ka Shahi Khanna
Lunch (1.30 – 3.30 pm)
Missi/Tawa Roti/ Tandoori Roti, Vegetable Poolao / Jeera Rice, Chowmein, Rajma , Sarson Ka Saag or Seasonal Vegetable, Paneer Shahi, Kadhi, Dahi or Raita, Makhan, Chatni, Achar, Gaajar Ka Halwa or Suji Ka Halwa(anyone), Papad, Chatni, Achar and Jaggery, Green Salad.
---
Experience real and authentic rural life by visiting Pratapgarh resort
Are you searching for a tourist spot away from the hustle-bustle of city life? Then Pratapgarh is the destination you were actually looking for. The place is approximately 1.5 hours driving distance from Delhi and also Gurgaon. The farm is an extremely charming little village that is being established at the backdrop of lush greenery and arid winds. Spread over an area of around twelve acres it serves as an ideal location for a family picnic near Delhi. It gives you an amazing chance to break yourself free from the routine city life and experience the real authentic rural culture and rediscover the roots.
Break yourself free from monotony of city life and visit farm
This place is perfect for a family outing around Delhi and you let your loved ones experience the varied hues of village culture and make each and every moment memorable. When you are searching for a day out destination for the family picnic in Delhi, there is no other place better than the lush green farmland where you and your family members can spend quality time together.
This place is perfect destination for a family outing around Delhi
The rural oriented resort encompasses a range of activities and mouth-watering food. The chirping sound of birds and the feel of fresh air will make you feel amazing and so close to nature. This farm is enriched with a great variety of flora and fauna. So you can no head towards the most idealist of the retreat with the family members for enjoying extremely rejuvenated vacations. The green farmland is an extremely charming and family-friendly resort where you can experience the childhood nostalgia with a glimpse of rural life. You can indulge in rural domestic activities and get yourself acquitted with rural life.
The green farmland is extremely charming and family-friendly resort
Everything from the mouth-watering cuisines to activities organized is being inspired by the rural life of our country. When you are looking for a day out family picnic in Delhi, then farms land gives you a chance to break free and unwind yourself. You can chase the chicks, enjoy camel ride, play rural games, learn pottery, indulge in adventurous activities and the list is so long.
The farm is a must to visit place for family picnic around Delhi
Join us for a Unique and Memorable family day outing.
A day full of unlimited fun, food and entertainment
When you visit the amazing ethnic resort for a family outing around Delhi, you will be offered delicious cuisines, live entertainment, handicrafts everything in the backdrop of the lush green and spectacular green farms. All this makes the farms a must to visit place for your family picnic around Delhi. So all you have to do is to pack up the bags, keep the essentials and drive on the road towards this serene green resort with your family members. Get ready to head towards Partapgarh Farms this weekend to spend quality time with your loved ones.
Family & Fun
Join us for a Unique and Memorable family day outing.
A day full of unlimited fun, food and entertainment
Experience a superb holiday with your family. We welcome you to unlimited fun and food, live entertainment, music dance, natural beauty care, games, sports, adventure activities for full day. There is something in it for everyone – Ladies, Gentlemen and Children, Grandpa and Grandma. Come and have wonderful and memorable day with your family. The package comes to you at unbelievable low price.
---
Family -Day Package (Timings – 09:30 – 05:30 Hrs)
All inclusive price
Including food, all activities and all taxes
In an all inclusive package
Per Adult
---
1320
Online booking Offer:
₹1280/-
per person above 10 years
(Inclusive of GST)
Per Child
---
780
Online booking Offer:
₹740/-
per child between 5 to 10 years
(Inclusive of GST)
● Accompanied Children below 5 years of age (maximum 2 children with a couple) will be complimentary.
● The rates are fixed. We regret no further discounts are possible.
Notes – Food related:
We serve and cook in RO water. Bottled water and Cold drinks are not included in the package but can be purchased over the counter.
We do not permit consumption of alcoholic drinks.
Notes – General
We provide a well enclosed parking with gates. Parking is free of charge at owners Risk.
Accompanying drivers / transport staff will be provided separate relaxing space and can be served meals @ Rs 200/- per person. We regret that accompanying drivers / transport staff will not be permitted to enter the campus and indulge in activities. If you so desire they can be allowed inside on payment of full package charges.
We are open on all days.
We provide all equipment for games, sports, entertainment etc. We will not permit you to carry your equipment for playing inside the campus.
There is no required minimum number of families or people. We have all in house facilities, therefore we do not restrict on minimum numbers or groups.
We do not allow stag entry. We permit entry only to families, groups through school, colleges, corporate entities and association.
Childrens who wish to enjoy Mud bath, Tube well bath and Rain Dance may carry their change and towels and appropriate bathing dresses. Bathing for gentlemen in short underwear is not permitted.
Unaccompanied children are not permitted.
Any one person from the group will need to carry a Photo Identity card.
You are responsible for your own belongings. We shall not be responsible for loss or damage.
Prior booking is necessary as we permit entry to limited number of guests per day. For groups less than 20 people registration is possible on phone and you pay on arrival. For bigger groups non refundable advance of 25% shall be payable. Balance is payable on arrival at site.
Rules and Advice for your convenience and safety
It is best to dress up in casuals; very especially sports shoes are convenient for rides, games and adventure activities. Very loose or hanging clothes or very tight dresses should be avoided.
Guests who wish to enjoy Mud bath and Tube well bath may carry their change and towels and appropriate bathing dresses. Bathing for gentlemen in short underwear is not permitted.
Guests are not be permitted drive tractors or carts. Any one attempting to do so will be liable for any damages or consequence as a result of the same.
Please do not point Airguns, Arrows, Gulels or Darts at each other or at animals or remove them from the respective venues.
Guests are not permitted pluck and / or put leaves / flowers and fruits grown on the farm in their mouth / or eyes as some of them although used as medicinal plants can be toxic.
Please do not to run behind / around domestic animals. Farm animals are emotionally sensitive and respond to love, care and respect. Poking sticks, shouting around farm animals, running behind or trying to feed them can evoke potentially dangerous responses from animals. While doing dairy activities or rides our facilitators will accompany the guests and we request that their instructions be followed.
While we try and ensure smooth rides while doing agricultural activities or tractor rides please do not jump or board on a moving vehicle to avoid being thrown off. They may seem slow moving but they are prone to jerky movements.
We request your patience in listening to our facilitators and following their instruction during rides and activities. Most them would speak Hindi but with rural accent typical of the area.
Please do not enter adjoining fields as they are privately owned. Consumption of alcohol or obscenity in any form will evoke strong objection by farmers and the local community.
Any medical conditions requiring care should be informed in advance.